SC22 Dallas, USA
14.-17.11.2022
Dallas, USA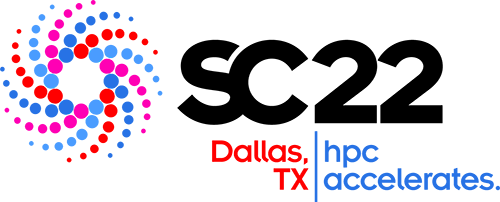 SC 2022, The International Conference for High Performance Computing, Networking, Storage, and Analysis at the Kay Bailey Hutchison Convention Center Dallas, USA, is approaching. The LUMI supercomputer is exhibiting this year.
Come and meet us at our booth, 545, and discover what LUMI, the European flagship supercomputer is all about:
An HPC system of over 300 petaflop/s of sustained computing power based on modern GPU processors and number 3 on the Top500 list published in November 2022!
The Swiss army knife of science: lending itself to a multitude of research problems such as climate change, natural language processing, genomics, and pandemic research, to name a few.
It is built on world-class environmental sustainability and cost-efficiency, helping the European ICT sector become greener and more cost-efficient, which is necessary to reach the EU's ambitious climate targets and pave the way for the green transition. LUMI was number 3 on the Green500 list in June 2022.
An innovative approach to collaboration. LUMI is a unique endeavor of ten European countries investing together in an HPC ecosystem and demonstrating a paradigm shift showcasing excellence and cost-efficiency based on long-term HPC and scientific tradition.
Meet the experts
Our stand program includes Flash Talks which we are hosting as follows:
Tuesday, November 15th
1:00 – 2:30 pm CST (UTC-5) Meet the executives: Kimmo Koski, Managing Director, CSC- IT Center for Science, available at the booth
1:00 pm CST (UTC-5) LUMI supercomputer in service of science communities, Pekka Manninen, Director of LUMI leadership computing facility, CSC – IT Center for Science.
3:00 pm CST (UTC-5) Enabling scientific research using AMD Instinct GPU Accelerators, Brad McCredie, Ph.D., Corporate Vice President Data Center GPU and Accelerated Processing, AMD
Wednesday, November 16th 
11:00 am CST (UTC-5) Green ICT – Sustainable HPC operations (case LUMI), Jukka-Pekka Partanen, Director, CSC – IT Center for Science
Experts available at the booth:
Esa Heiskanen, LUMI operations, on Tuesday, 15.11 at 11 am and Thursday, 17.11 at 11 am
Emmanuel Ory, LUMI user support, on Tuesday, 15.11 at 11 am
Martti Louhivuori, HPC programming, on Tuesday, 15.11 at 4 pm
Fredrik Robertsén, LUMI system architecture, on Wednesday 16.11 at 1:15 pm
Samuli Saarinen, LUMI installation project, on Thursday, 17.11 at 1 pm
You can also take a virtual reality tour of the LUMI data center at our stand, meet our experts and try your luck with the wheel of fortune.
Our experts are ready to talk to you!