LUMI ranked third on Top500 list of world's fastest supercomputers – the fastest supercomputer in Europe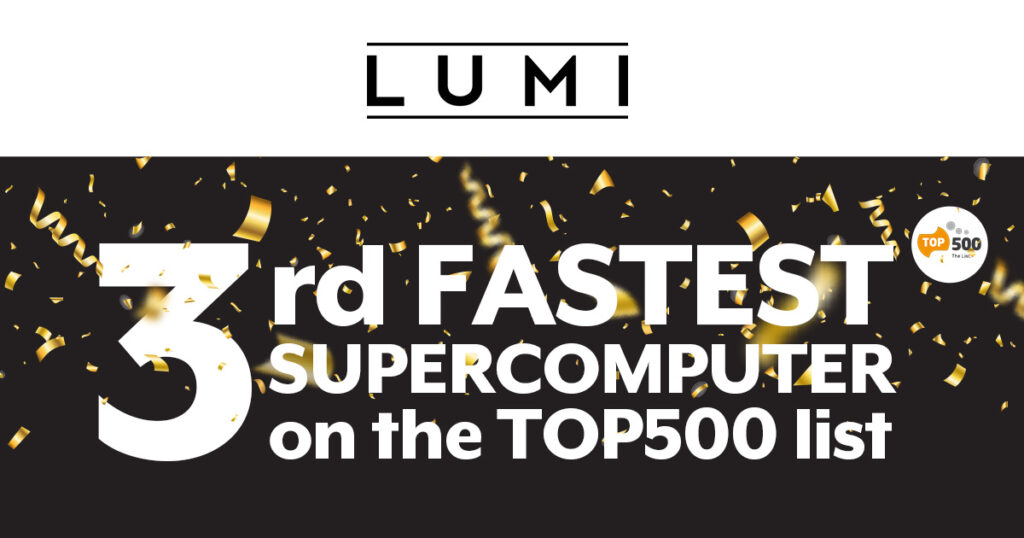 EuroHPC Joint Undertaking's LUMI supercomputer reached the third spot on the latest Top500 list of world's fastest supercomputers released at the ISC22 conference in Hamburg, Germany on 30 May 2022. LUMI reached a measured High-Performance Linpack (HPL) performance of 151.9 petaflops. This makes LUMI the fastest supercomputer in Europe.
LUMI is a unique endeavour thanks to its scale, sustainability and pan-European nature, hosted by a consortium of ten countries.
– The EuroHPC JU is extremely proud to see its first pre-exascale supercomputer reach the third position on the Top500 list. This is the latest tangible success for the EuroHPC initiative and validates the work that the JU is doing to achieve its mission of developing a world-class supercomputing infrastructure in Europe. To see LUMI so well ranked is an incredible result which shows the importance of European collaboration and the impact we can achieve when we work together, says Anders Dam Jensen, Executive Director of the EuroHPC Joint Undertaking.
– The LUMI consortium is excited about LUMI's Top500 ranking and is looking forward to seeing LUMI's remarkable computing power being used for RDI efforts with major societal impact. In addition to being an enabler of scientific breakthroughs and industrial innovation, LUMI will also be a platform for research collaboration allowing for mutual learning and competence development as well as for developing emerging technologies, such as AI and quantum. All these factors together make LUMI a key instrument for Europe's future success and strategic autonomy, says Kimmo Koski, Managing Director of CSC – IT Center for Science, Finland, on behalf of the LUMI consortium.
– LUMI is not only a very powerful supercomputer, it is also an exceptionally green one. It runs on 100% renewable hydroelectricity, uses free cooling and has an advanced waste heat utilisation system with its waste heat being used for local district heating. This makes LUMI's contribution to Europe's future all the more remarkable, Koski continues.
The LUMI system is supplied by Hewlett Packard Enterprise (HPE), based on an HPE Cray EX supercomputer.
– The LUMI supercomputer represents a landmark achievement for Europe that will unlock innovation in critical areas such as drug discovery, healthcare, weather forecasting, and AI-driven initiatives, and power economic growth for European nations and corporations, says Justin Hotard, executive vice president and general manager for HPC & AI, HPE.
– It is an honor to closely collaborate with EuroHPC JU, CSC, and AMD to support this mission, and to build the system with HPE Cray EX supercomputers, which deliver next-generation supercomputing and AI capabilities. We celebrate this significant performance milestone for LUMI and look forward to many more, he continues.
LUMI's second pilot phase for selected users will start in August 2022, and the system will become generally available for users in late September 2022.
– We are thrilled to see LUMI among the top systems of the Top500 list – it's been a while since a supercomputer in Europe has reached such positions. Critical technologies such as HPC, play an ever more important role, and interest towards Europe is increasing. We are eager to see LUMI in its full glory later this year and look forward to a golden era of data-driven scientific discovery in Europe, enabled by LUMI and other EuroHPC systems, says Pekka Manninen, Director of LUMI leadership computing facility, CSC – IT Center for Science, Finland.
LUMI's GPU partition called LUMI-G wasn't yet fully installed for this edition of the Top500 list – the expected HPL performance will grow up to 375 petaflops during June 2022.
On the new HPCG list LUMI was also ranked number 3. The HPCG list (High-Performance Conjugate Gradient) benchmark provides an alternative metric for assessing supercomputer performance and is meant to complement the HPL measurement.
LUMI's architecture
The full system architecture of LUMI is the following:
• The LUMI system is supplied by Hewlett Packard Enterprise (HPE), based on an HPE Cray EX supercomputer.
• The GPU partition consists of 2560 nodes, each node with one 64 core AMD Trento CPU and four AMD MI250X GPUs.
• Each GPU node features four 200 Gbit/s network interconnect cards, i.e. has 800 Gbit/s injection bandwidth.
• The committed Linpack performance of LUMI-G in its final configuration is 375 Pflop/s.
• The MI250X GPU comes with a total of 128 GB of HBM2e memory offering over 3.2 TB/s of memory bandwidth.
• A single MI250X card is capable of delivering 42.2 TFLOP/s of performance in the HPL benchmarks. More in-depth performance results for the card can be found on AMD's website.
• In addition to the GPUs in LUMI there is another partition (LUMI-C) using CPU only nodes, featuring 64-core 3rd-generation AMD EPYC™ CPUs, and between 256 GB and 1024 GB of memory. There are 1,536 dual-socket CPU nodes in total.
• LUMI also has a partition with large memory nodes, with a total of 32 TB of memory in the partition.
• For visualization workloads LUMI has 64 Nvidia A40 GPUs.
• LUMI's storage system, based on the Cray Clusterstor E1000 storage system from HPE, consists of three components. First, there is a 8 petabyte all flash Lustre system for short term fast access. Next there is a longer term more traditional 80 petabyte Lustre system based on mechanical hard drives.
• For easy data sharing and project lifetime storage LUMI has 30 petabytes of Ceph based storage.
• LUMI also has an OpenShift/Kubernetes container cloud platform for running microservices.
• All the different compute and storage partitions are connected to the very fast HPE Slingshot interconnect of 200 Gbit/s.
• LUMI takes nearly 300m2 of space, which is about the size of two tennis courts. The weight of the system is nearly 150 000 kilograms (150 metric tons).
Inauguration in June
LUMI's inauguration event will take place on Monday 13th June 2022, in Kajaani Finland. The event can be followed via live stream. Please follow LUMI's website and social media channels for further information. There will also be a press conference during the inauguration. Media representatives are asked to do the accreditation for the press conference via the link below.
More information:
Contact details for media & media gallery: www.lumi-supercomputer.eu/media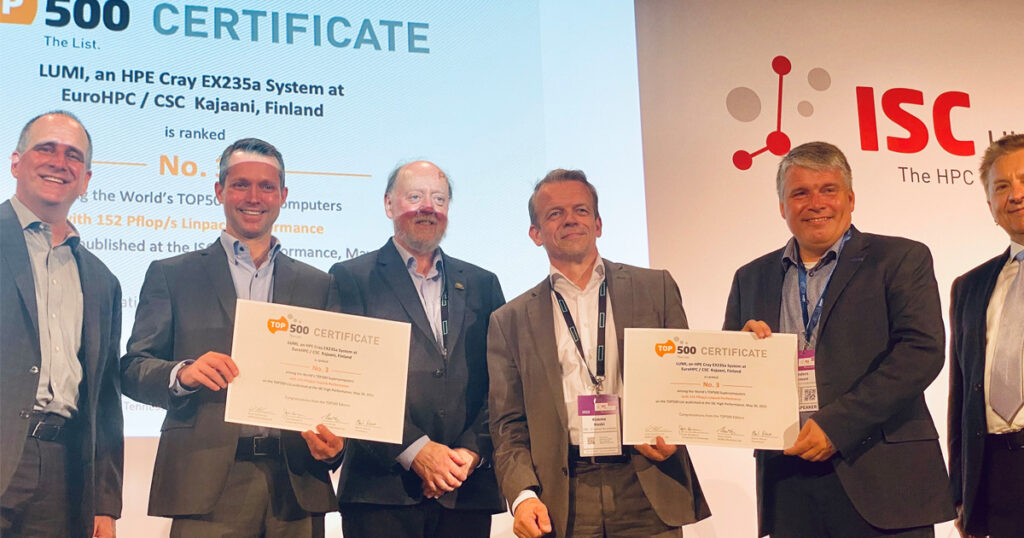 Image from the Top500 ceremony at ISC22 on 30 May 2022. Copyright: EuroHPC JU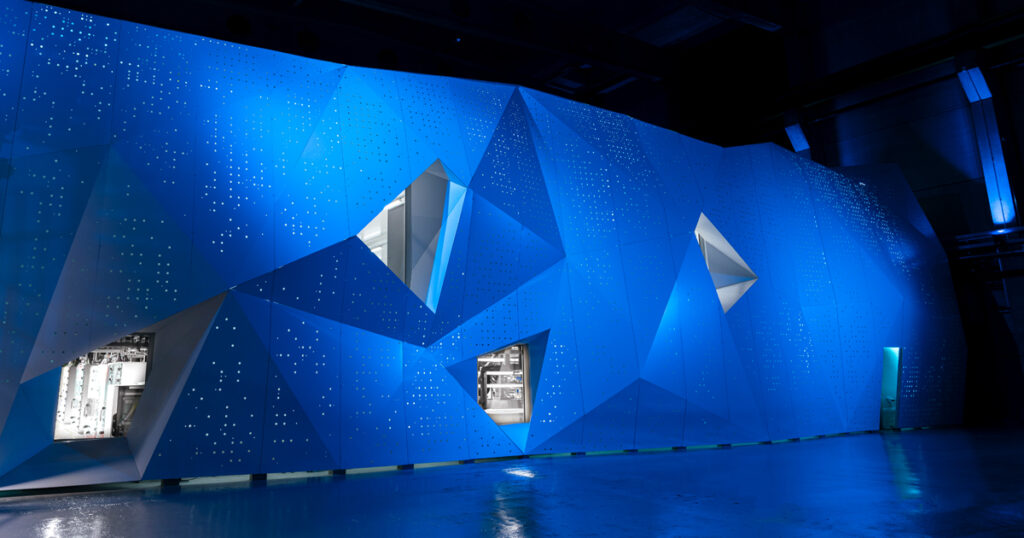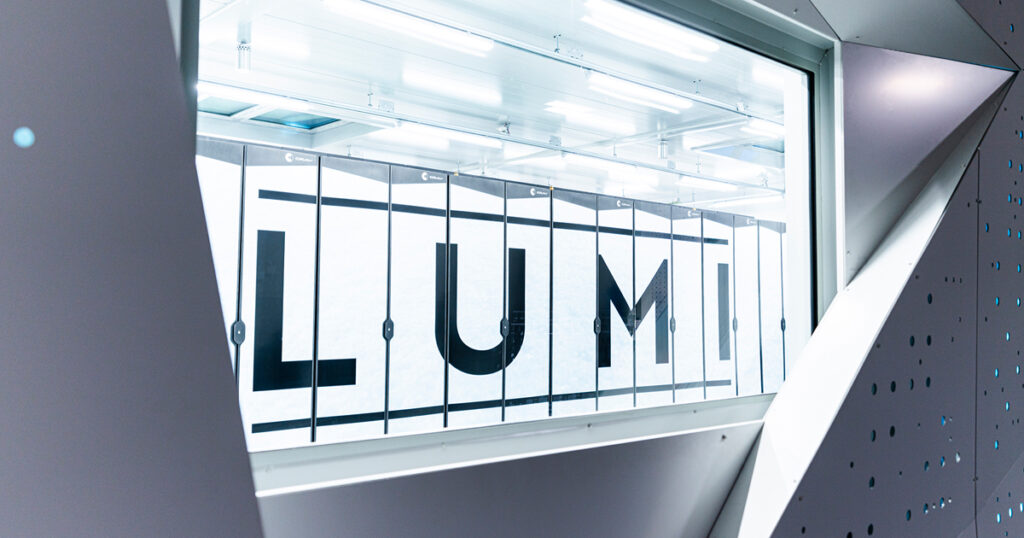 Images: Fade Creative