LUMI world-class supercomputer
LUMI, one of the EuroHPC world-class supercomputers and leading platforms for artificial intelligence, will be located at CSC's data center in Kajaani, Finland.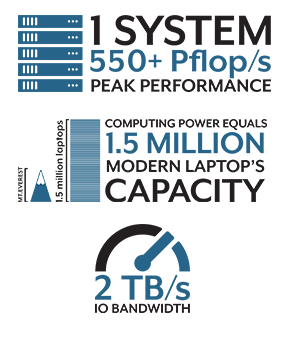 • LUMI's theoretical computing power is more than 550 petaflops
• Computing power equivalent to the combined performance to 1.5 million modern laptops
• Size of a tennis court, weighing 150 000 kg
• Storage: over 80 petabytes with a sizeable flash layer providing more than 2 terabytes per second of bandwidth
• Achieves its high performance with a large number of nodes with accelerators (GPUs). The system is complemented by a CPU only partition, cloud services, and a large object storage solution.
Read more about the LUMI system from our blog
Operations
LUMI will be installed in two phases: In the first phase, deployed during summer 2021, the CPU partition and storage systems will be deployed. The second installation phase towards the end of the year will bring LUMI to its full grandeur including the GPU partition. Both installation phases will be concluded with short pilot and acceptance phases. So LUMI will be in full swing in early 2022 but the CPU partition will be available already earlier during autumn 2021.
Promoting the European Green Deal
LUMI is built on world-class environmental sustainability and cost-efficiency. It helps the European ICT sector become greener and more cost-efficient, which is necessary for reaching the EU's ambitious climate targets and paving the way for the green transition. With the smallest possible environmental burden and lowest cost for European taxpayers, LUMI is beyond compare.
LUMI will be run by 100% renewable, hydroelectricity.
The waste energy of the LUMI supercomputer produces 20 percent of the district heat of the city of Kajaani, reducing the total energy costs and CO2 emissions. This reuse of waste heat will reduce the annual CO2 footprint of the area by 13,500 tons – an amount that equals the output from 4000 passenger cars.
See what we are doing at ISC21