LUMI receives honors in global DCD Awards 2021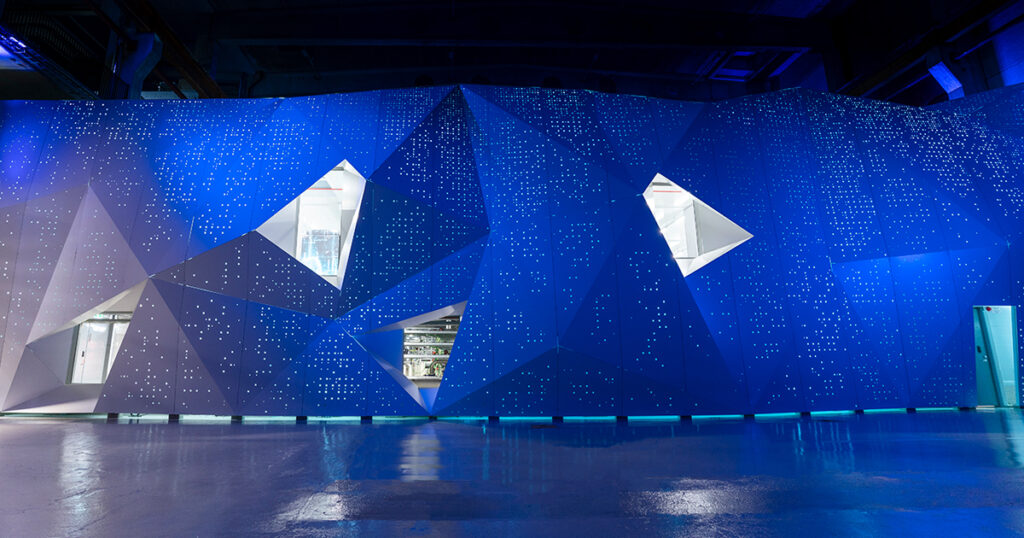 LUMI has received honors in the global DCD Awards presented in London on 8 December 2021. LUMI was recognized with the following honor: Data Center Design Innovation Award in collaboration with Granlund and Synopsis Architects.
This was the 15th annual DCD Award ceremony recognizing the most outstanding projects, people & teams in the data center industry. This year DCD Awards received more entries than ever before across 14 categories: hundreds of entries were submitted from 35 countries across 6 continents. The entries were independently judged by a team of renowned experts.
DCD Awards stated the following about the winner of the Data Center Design Innovation Award:
– This award recognizes facilities that have pushed the boundaries in terms of design and construction to deliver a building which overcame a unique challenge and met (or exceeded) the original project objectives. The design and construction of the CSC 'state of the art' supercomputer (LUMI) illustrates how a project needs to factor in modifications mid-project. The HPC hardware and its specifications were only available midway through the design process meaning design and construction were conducted side by side. The resulting data center has a negative CO2 footprint as it is powered by renewables and its waste heat is used to heat local buildings.
– Great design primarily serves a function but also offers magical experiences. LUMI is not just cool and one of the most eco-efficient data centers in the world but also looks very cool. LUMI means snow in Finnish and we wanted to create something inspiring based on our unique location. It is such an honor to receive this award and we want to thank DCD Awards for this award. We also want to thank our collaborators Granlund and Synopsis Architects, not forgetting the LUMI consortium and EuroHPC Joint Undertaking and everyone else involved – without you this wouldn't have become reality and we can all be proud of this achievement, said Jukka-Pekka Partanen, Director of the Kajaani Data Center Program at CSC – IT Center for Science, the hosting site of the LUMI supercomputer.
– LUMI has been a really interesting project, where an old paper mill has been turned into a bit mill. We have had a good spirit in the design project from the start. The client has actively participated in the internal design meetings, so that the information flow has been exceptionally good. I think that the end result is a good proof that we did the right actions during the process – the project was completed on schedule and on budget and the qualitative targets were achieved. It is great to see, that the end result – a carbon-negative data center – has been noticed also internationally, stated Jari Innanen, the Director of the data center business at Granlund Group.
– We are happy to have been included in a project like this, where our design has really made an impact. It was exciting to use parametric and computational tools when designing a space for a high-performance supercomputer, commented Mikael Haasmaa and Anniina Meriläinen, principal and architectural designers in the project from Synopsis Architects.
About LUMI
LUMI, one of the EuroHPC pre-exascale supercomputers and leading platforms for artificial intelligence, is located at CSC's data center in Kajaani, Finland. It is one of the most eco-efficient HPC facilities in the world. The supercomputer is hosted by the LUMI consortium consisting of ten European countries. www.lumi-supercomputer.eu
About Granlund
Granlund is a group of companies operating in the construction and real estate sector. Granlund's main goal is to improve human well-being in the built environment. Its areas of expertise include technical building services design, energy, environmental and real estate consultation, construction management and commissioning, as well as building and real estate management software. Granlund is the leading data center design company in the Nordics. The Group employs over 1,200 experts. Learn more at www.granlundgroup.com.
About Synopsis Architects
Synopsis Architects Ltd is a Helsinki based architectural office specialized in demanding renovation and alteration projects. http://synopsis.fi/
More information on the winners this year can be found at the DCD Awards website.
Image: Fade Creative