Solving intricate research challenges with LUMI
The goal of the EU Commission and Member States' EuroHPC Joint Undertaking is to make Europe the leading continent for high-performance and quantum computing. To achieve this objective, EuroHPC aims to create a pan-European high-performance computing (HPC) research infrastructure which will increase HPC competence and support the technologies' development in Europe. EuroHPC is acquiring a total of eight new supercomputers, including three ultra-fast, pre-exascale computers – the first of which started operating this year in Kajaani. This article was originally published on the European Commission Finland representation's web page.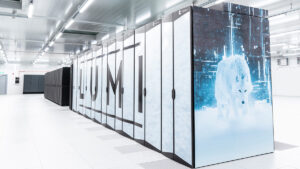 Once fully operational, LUMI is expected to be one of the world's most efficient and environmentally friendly supercomputers. Launching LUMI is a multi-stage process: the operating environment expands as the system is commissioned.
The first phase of LUMI, its CPU partition, was deployed early this year, and LUMI has already been used to run the first pilot phase projects. The pilot's aim in late 2021 was to use heavy workloads to test the computer's CPU partition and storage system and collect feedback from the pilot participants. These participants were selected from the LUMI consortium member countries, and the projects covered several fields of science. The selection criteria for the projects were scientific potential and technical difficulty, i.e., whether they can push the system to its limits.
– The user experiences were positive. One of the Finnish pilot users was a research group led by Professor of Computational Space Physics Minna Palmroth (University of Helsinki), which is studying space weather and seeking to use computer models to simulate a Carrington Event-level solar storm and model its effects on structures such as power grids and satellites, says Pekka Manninen, Director of the LUMI Leadership Computing Facility.
The second phase of the LUMI system, the GPU partition, will be installed this spring, after which the pilot users will get to test its performance during the second pilot phase.
– Some of the Finnish pilot users of the GPU partition, for example, will use machine learning to create a highly advanced Finnish language model. Another Finnish pilot project is in the field of astrophysics. Pilot projects are important because they produce the right results: the machine is stretched to its limits, and at the same time, research is carried out. If everything goes according to plan, LUMI will become fully operational this summer, Manninen continues.
As things currently stand, LUMI will probably be the only one of the three largest EuroHPC centres that will become fully operational this year.
– LUMI's entry into the top 500 list of the world's most powerful supercomputers is expected to take place at the end of May, while the official inauguration is currently planned for June. LUMI's standing in the EuroHPC project is good, as the construction work has progressed well despite small time delays caused by the coronavirus pandemic and a shortage of components, explains Kimmo Koski, Managing Director of CSC (IT Center for Science).
Each member of the LUMI consortium receives a portion of LUMI's computing time in proportion to the size of their financial contribution. Finnish researchers will use around 24% of LUMI's computing capacity. Meanwhile, one-fifth of LUMI's computing time has been reserved for companies opening up new opportunities to cooperate with universities and research centres.
LUMI can be a research tool for every field of science
The computing power of supercomputers is needed for research in a wide range of data- and computation-intensive fields, such as medicine and healthcare, energy, climate research, cybersecurity, and artificial intelligence.
–It is clear that in every field, there are data-analysis and data-modelling problems that require the use of a supercomputer, Manninen says.
Understanding climate change and its impacts and anticipating extreme weather phenomena are also important research areas. As part of the European Green Deal and European Digital Strategy, the Destination Earth project (DestinE), funded by the EU's Digital Europe Programme, aims to develop a highly detailed model of our planet that can be used for modelling, tracking, and simulating natural phenomena and activity related to them. This digital model could be used in forecasting and planning responses to storms, floods, and other extreme weather events and natural disasters.
– Using a supercomputer, the climate model can be linked to other models, which in turn helps us to understand how climate change affects living environments. It can be used to examine how cities are changing, whether forest growth is slowing down or accelerating, or how glaciers behave as climate change progresses. Destination Earth will be one of the most important scientific computing projects in the next decade, as the project will, in practice, produce a digital twin of the entire planet, including all its interrelated parts, such as the climate, seas, land, and built environment, Manninen explains.
With a supercomputer, research can make greater use of artificial intelligence, which can discover many things that cannot otherwise be identified in the data. This machine learning-based analysis and reanalysis of data will produce a lot of new scientific knowledge in a wide range of disciplines. In this video, doctoral researcher Kimmo Kartasalo from the University of Tampere explains how artificial intelligence research benefits from the computing power of LUMI.
– In addition, the supercomputer can be harnessed for better understanding very complex phenomena such as turbulence, which is the behaviour of flowing matter such as plasma in a fusion reactor. This decade will see the commissioning of the first fusion power plants, but there is still a long way to go in studying how the plasma interacts with the fusion reactor wall and how plasma can be managed within magnetic fields. This is a computationally complex phenomenon for which the capacity of today's supercomputers is not yet sufficient. LUMI takes us a step closer to being able to design functional fusion reactors, Manninen says.
Koski, meanwhile, points out that the supercomputer can be utilised in medicine in many different ways, including simulations, biomedicine, and genomics. Supercomputing centres around the world have also participated in coronavirus research. In this video, the CEO of Disior Oy Anna-Maria Henell, a company that develops software for analysing medical images, talks about the new opportunities LUMI opens up for the company.
Manninen sees digital human sciences and social sciences as an emerging research area. When entire social media data sets are analysed simultaneously, for example, it is possible to find different regularities in people's social media behaviour and in society and human nature as a whole. Matti Nelimarkka, University Lecturer in Computational Social Science at the University of Helsinki, explains in this article and video the new opportunities that LUMI brings to the social sciences.
– LUMI is a tool for cutting-edge research – a research instrument that cannot do science on its own but rather needs a researcher at its side. When a top-level tool is made available to a top-level researcher, the result is top-level science. Therefore, the supercomputer is an extremely effective tool, but it is much more important to understand the research results obtained than how quickly they can be calculated. This means the development of researcher competence must also be integrated into the research ecosystem, Manninen and Koski add.
– I would say that LUMI is simply the best scientific computing environment ever built. It helps researchers to solve ever larger and more complex research problems, and the scientific research results it enables, as well as their applications and innovations, will ultimately affect all of our lives, Manninen concludes.
Further plans for LUMI already in place
The lifecycle of a supercomputer typically lasts around 5–6 years. In addition to preparations for the launch of the LUMI supercomputer, CSC is discussing plans within the frameworks of both the national HPC environment and EuroHPC.
– The idea in EuroHPC is that the infrastructure should not be built for just five years. We start with the firm assumption that we will pursue extensions to the LUMI project. The old UPM paper mill is a great location because there is no shortage of electricity or space. UPM's paper machines had a power capacity of more than 200 megawatts, while LUMI currently requires less than 10 megawatts. In many supercomputer centres in Central Europe, 15 megawatts is already punching close to the site's maximum capacity. In Kajaani, we have the chance to scale things up, and we can do all kinds of things already during the LUMI project, not just afterward, Koski says.
Manninen notes that LUMI is likely to develop during its lifecycle through, for example, the study of future technologies such as quantum computing.
– Even now, a project is underway in Kajaani to consider whether an ecosystem could be built alongside LUMI and whether other actors could be involved in the project. In the future, of course, the goal would be to have the next generation of supercomputers installed in Kajaani. Much depends on how successful LUMI is, Koski continues.
Koski emphasises that LUMI is a historical project. Finland has obtained such an important digital infrastructure for the first time, which we have completed as the first EuroHPC centre. It is also unique that, for the first time in HPC, ten countries are investing in a set of equipment this is physically located in only one country.
– LUMI's location in Finland is a sign of their trust. We want to show that the investment was a good decision – and if LUMI is successful, we also have a better chance of getting the project extended. It is important that people here in Finland also understand the importance of the project for research carried out here and are prepared to invest in it, Koski summarises.
Open and online 'Elements of Supercomputers' course provides more information on HPC
CSC has observed that a good understanding of general terminology for supercomputing could benefit the broader public and the industrial use of computing resources. It would help people better understand the potential of supercomputer-based computing and data analysis for traditional sectors. The Elements of Supercomputers online course, which is free and open to all, was created as a joint project between CSC and Kajaani University of Applied Sciences (KAMK).
Elements of Supercomputing is an easy-to-understand presentation of supercomputing, its significance, and its use. The course is designed to provide basic information on the subject, attract secondary-level students to pursue studies in the field, and present HPC benefits to company employees working in RDI. The course is also available in Finnish and later in Swedish as well.